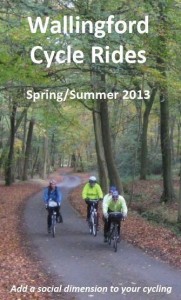 Wallingford is the largest town in Oxfordshire with as yet little in the way of organised cycling activity, despite having some wonderful cycling country on the doorstep.  To address this 'gap', CTC Oxfordshire is organising a series of 5 leisure rides from Wallingford over the summer. 
 The rides are open to all and mostly in the popular format of 25 to 40 miles on a Sunday afternoon with a stop for tea and cake about half-way.  The rides will follow the quieter country lanes through the Vale and on occasion up into the Chilterns.  We'll keep to a sociable pace, not a sporty one, about 11-13 mph on the road.  The rides will be led by experienced leaders, and follow CTC guidelines to be safe and enjoyable for everyone.  
 Rides will start from Wallingford Market Place, outside the Town Information Centre, at 1:30pm on the first Sunday of each month, starting this Sunday 5 May.  (The nearby Goldsmiths Lane car park is currently free on Sundays.)  Rides will normally arrive back at 4:30 to 5pm.  The exception will be 7 July, which will be a 'picnic ride' starting at 9:30am to coincide with the Benson Veteran Cycle Club Rally, and returning mid-afternoon.
If you'd like to join us on Sunday, we'll be heading westwards to the Wittenhams, Didcot and the Hagbournes with tea stop at Blewbury, a flattish ride of about 25 miles.
If you'd like further information or to register your interest, please contact Robin Tucker at robin.tucker1@yahoo.co.uk , on 07901 622622, Steve Swanton at steveswanton@easynet.co.uk 01235 764257  or see: www.ctcwantage.org.uk/wallingfordrides. 
So if you live in or near Wallingford and would like to meet up with and ride with other local cyclists, and would be interested in forming a new cycling group, please get in touch with us or come along to one of the taster rides.  What happens next will depend on the level of interest  generated.