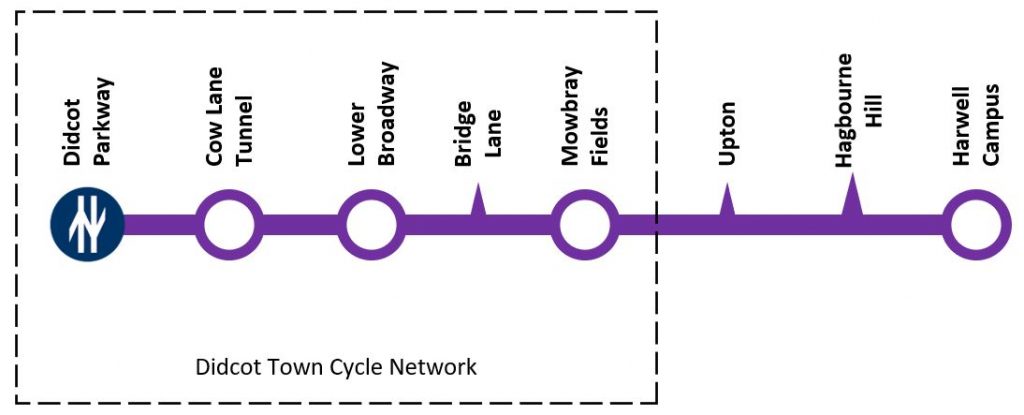 Hawking Way – via Old Railway, Upton Village & Icknield Way (Sustrans Route 544).
Details: 5 miles (8km) from Didcot Parkway to Harwell Campus Pavilion.
Regional cycle route 544 runs from Didcot to Wantage via the Harwell site.
Turn left out of Didcot Parkway station and follow the cycle path on Hitchcock way up to roundabout where the Broadway, Hitchcock Way and Jubilee Way meet. Route 544 starts at the roundabout over at the Jubilee way turn. Follow the path through Didcot , past the Millenium wood to Mowbray fields where it joins the old Didcot to Newbury railway line.
Follow the route to Upton village (with connections along the way for East and West Hagbourne). On entering the village at Chapel Furlong, turn right and follow the road through the village until you get to the A417 Reading to Wantage road. Cross over the main road onto the Chilton road (traffic free) and continue up the hill.
At the top of the hill, cross straight over the junction onto a farm track (Icknield way). Caution needs to be taken when crossing over to the farm track as the junction is difficult and traffic coming across the junction travels fast over the brow of a hill. Rumble strips and cyclist triggered LED warning signs have been fitted.
Follow the farm track over the A34 on the bridge and down to the A4185 just by the pedestrian / cycle crossing.
---
There is also an option to cycle from Upton via the Lynchway track without using the Chilton Hill road.
---
Click on the finish marker or the track for more route details and to download the GSX file.
---
See also the Sustrans 544 webpage
Science Vale Cycle Network – H1 Hawking Way
The Science Vale Cycle Network is a series of cycle routes connecting towns to business parks. The routes have been named after famous scientists who have studied at Oxford University.
Hawking Way runs from Didcot to Wantage via the Harwell Campus and is Sustrans route 544. The route is named after Stephen Hawking (1942 to 2018) the Theoretical Physicist and Cosmologist. He was born in Oxford and graduated from University College Oxford.