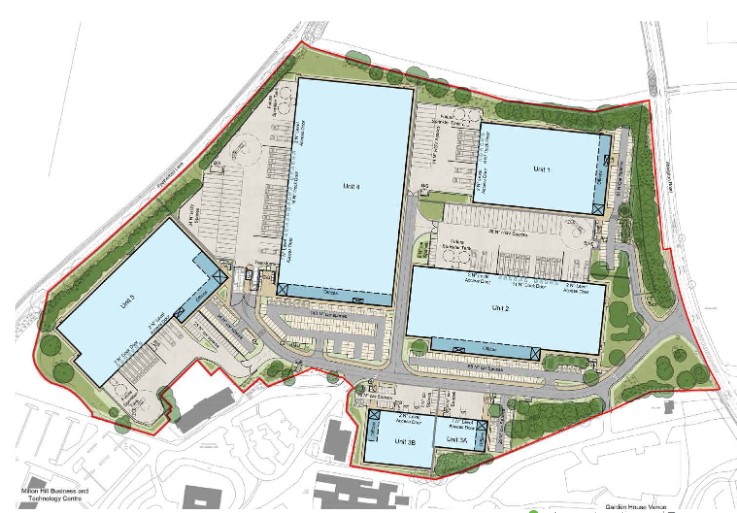 A planning application has been submitted to Vale of White Horse for the redevelopment of the old Esso Research Site at Milton Hill. This is for 5 off warehouses / distribution centres which will mean a lot more HGVs on the A4130 to Rowstock and A4185 to Cilton Interchange. A few years ago Tesco applied for a distribution centre which was approved but Tesco didn't go ahead with the development. The new application is larger with more vehicle movements.
HarBUG has objected to the application, the text of our objection is below:
Harwell Campus Bicycle Users Group (HarBUG) campaign for better cycle infrastructure to the Campus from Didcot and the Science Vale area.
We object to planning application P21/V1171/FUL for 5 no. commercial buildings on the former Esso Research Centre at Milton Hill, Abingdon.
Our objection is concerning the amount of extra traffic this development will generate, especially HGV traffic. The extra HGV using the A4130 south of the site, towards Rowstock and the A4185, will have a detrimental effect on the safety of cyclists and deter cycling on those roads. Although 'A' roads, the A4130 and A4185 south of the site, are not suitable for the quantity of HGV traffic the development will generate.
The application states that the majority of HGV movements will be towards the Milton Interchange. We dispute this projection, it is clear that traffic to and from the site needing to go south to the A34 would use the A4130 / A4185 to the Chilton Interchange. The route is shorter, quicker and the most logical for any driver.
Without a commitment to build segregated cycleways on either side of the A4130/A4185 from Steventon Lights to the Chilton Interchange, this development will result in the reduction of cycling and an increase in car use over and above the extra generated by the development. This reduction in cycling and increase in motorised traffic would be contrary to the policies of the District and County Councils w.r.t. encouraging active travel and addressing the climate emergency.
We don't believe that the size and scale of the development is suitable for the rural location. The development would be better located on one of the Didcot industrial sites where more suitable road structures exist and are being improved (Science Bridge, Thames Bridge & Clifton Hampden Bypass).