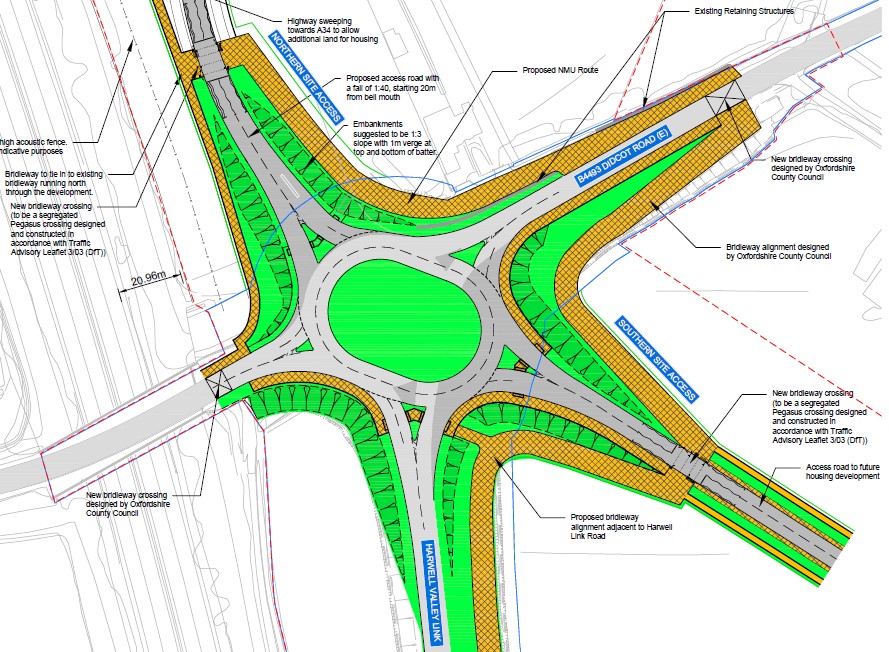 Developers for Valley Park have submitted admended plans for consultation with Vale of White Horse Council. The plans include changes to the 5-arm roundabout on the B4499 from Didcot to Harwell Village.
According to the covering letter from the planning consultatnts, 'Details of the five-arm roundabout 10219-HL-61-100-004C have been agreed with OCC following their requested changes and local feedback'.
The full updated drawing can be downloaded here: B4499 Southern Site Access Proposed Roundabout – New.
For comparison the previous design can be downloaded here: B4499 Southern Site Access Proposed Roundabout – Old.
There appears to be very little change between the designs, except the new drawing is in colour. The new drawing has a new crossing on the Southern Access Road arm but that is really the only difference and that change lacks any detail. The table detailing DMRB compliance has disappeared, probably because we called them out on this, but there has been no changes to the roundabout geometry.
HarBUG still believes that this roundabout design does not accommodate the needs of any cyclists. The roundabout would deter potential and existing cyclists from the journey inbetween Harwell village and Didcot and hence to the Harwell Campus on a key cycle route – H4, Hodgkin Way.
Please object to the Valley Park planning application, stating your objection to the roundabout design, using the web form at the bottom of the application web page: P14/V2873/O.
Please also forward your response to the County and District Councillors for Harwell:
The closing date for comments is the 22nd January 2021, please take the time to respond and support a change in the design for the roundabout. This may be the last chance we have to formally comment on the design.