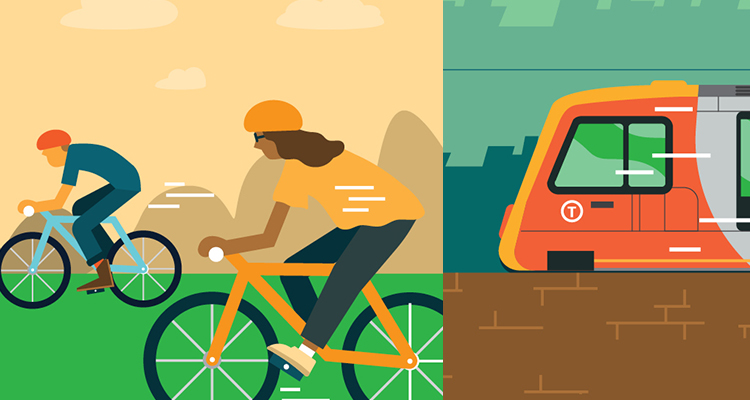 The Harwell Campus are hosting an Energy & Sustainability Week from Monday 13th to Thursday 16th June. There will be a series of events throughout the week including a Cycle to Work Day and Dr Bike 'Surgery' on Wednesday 15th. HarBUG will also be presenting at two of the virtual talks; Sustainable travel options at Harwell (on Wednesday) and Harwell Campus interest groups (on Thursday). More information on the events can be found at: Energy & Sustainability Week.
---
Cycle to Work
Cycling to work is a great way to start and finish the working day, reducing stress and providing exercise for free. Why not join our easy paced group rides from Wantage or Didcot to the Campus? A free breakfast will be served at DiSH on Curie Avenue.
Just turn up at one of our Group rides, suitable for all fitness levels.
Didcot Parkway, Cycle Hub – Depart 07:50 
Wantage, Nelson Pub – Depart 07:45  
Breakfasts are served at DiSH, Curie Avenue from 07:30 to 09:00.
If you are a regular cycle commuter, please join our group rides and help show new cyclists the joys of cycle commuting or don't forget to call in at DiSH for a free breakfast and to say hello.
Cycle to Work Event Notes
If you are joining the escorted rides, please ensure your cycle is road worthy.
Cycle helmets are not mandatory on escorted rides but are recommended.
Ride leaders for the escorted rides will be wearing HarBUG fluorescent jackets.
Free breakfasts will be available whilst stocks last.
You must have cycled to the Campus on the day and work on the Campus to be eligible for the free breakfast.
Please note we will not have access to the Harwell Pavilion at this event.
Participants join the event at their own risk.
Please contact chair@harbug.org.uk if you have any questions.
---
Bike Doctor Surgery
Slime Cycleworks will be running a Bike Doctor Surgery during lunchtime at DiSH (08:00 to 12:00) . Bring your cycle along for a free checkup and tune up. Drop your bike off and grab a bite to eat and a drink whilst your bike is being tuned up.
Notes for Bike Doctor Surgery:
Bike Doctor Surgery works on a first come first served basis.
Labour is provided free, any parts must be paid for by the cycle owner.
The Bike Doctor Surgery is provided for basic adjustments, tuning or minor repairs to cycles only. We reserve the right to refuse any cycle if the work required will require too much time to complete. The amount of time available will depend on the number of cycles left for work and a judgement call from Slime Cycleworks, this will be be non-negotiable.
Cycles are left at the Bike Doctor Surgery at the owner's own risk.
Cycles must be collected before the finishing time, check with Slime Cycleworks on the day.
HarBUG is not responsible for any damage, loss or theft of any cycles using the Bike Doctor Surgery.
---